Kayaking and Canoeing.  Seal launching.  Playing kayak polo. Or start from the beginning.  Take lessons, gain skills and join your local kayak club.
Canadian Canoeing across the lake and jumping into the water.  That's what you want.
We  provide kayaking and canoeing for:-
Children
Adults
Teenagers
Training to Level 2 skills
Kayak polo
Canoeing expeditions
Kayak expeditions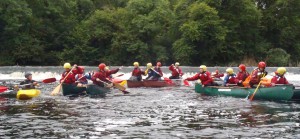 Please see downloads for 'what to bring' on the water.  Parental consent forms can also be downloaded from this site.
We are offering extraordinary rates.  So please ring for details.
Below!  This is the 'Duff' river.  We also train on the Boyle river.  Training and Assessment courses are run during the Summer.
Full time Training course is run from September to June.  This course is a Post Leaving Certificate and FETAC  Level 5.  It is also Grant aided and Back to Education for those who are eligible.  See Outdoor Recreation FETAC Level 5 on this web site for more details and application forms.